iOS internal codenames show an affinity for skiing
15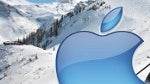 Codenames are some of the most fun parts of the tech world. Often, we'd prefer the codename to the official product name (ie the Nintendo Revolution vs the Wii). We almost always know the codename for new builds of Windows, we know the big cat theme for OS X and we know about the dessert themes for Android releases. Now, we're seeing the internal codenames for iOS builds, and there's a common theme here as well.
The leaked codenames for iOS come from Steve Troughton-Smith, and all have been taken from ski resorts around the United States. The list is:
1.0: Alpine (1.0.0 – 1.0.2:Heavenly)

1.1: Little Bear (1.1.1: Snowbird, 1.1.2: Oktoberfest)

2.0: Big Bear

2.1: Sugarbowl

2.2: Timberline

3.0: Kirkwood

3.1: Northstar

3.2: Wildcat (iPad only)

4.0: Apex

4.1: Baker

4.2: Jasper (4.2.5 – 4.2.10: Phoenix)

4.3: Durango

5.0: Telluride

5.1: Hoodoo
The codenames shouldn't be too surprising, since Steve Jobs often took his family on ski trips. It is a bit odd that it took this long for the codenames to leak out.

source: Steve Troughton-Smith via The Verge