iOS 8 auto-complete keyboard gets insane Twitter feed
6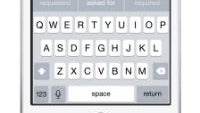 If you didn't know by now, there is something of a Turing Test for keyboard software to see just how good the auto-complete really is. Basically, just let the keyboard do everything, and see what happens. Though most keyboards end up with stream-of-conscious insanity, and nothing close to rational communication, it usually creates comedy.
I remember doing this test way back with Google Scribe, but others have pulled the same trick with SwiftKey and others. Now, it is Apple's turn because of the new keyboard in iOS 8. Someone has put together a Twitter feed for the madness. The feed ranges from completely absurd - "I'm all about that bass and the other side of the Florida? I'm so happy to have the same time as the first place in my pocket frogs" - to strangely beautiful - "You are the best thing about being in love again."
There even appears to be a swipe at Google in the feed with, "Vengeful eyebrows are so cute when they get to know your gmail accounts." It's hard to say how long this Twitter account will last. These things tend to have a short shelf life, but we'll see.