Google is bringing native hearing aid support to Android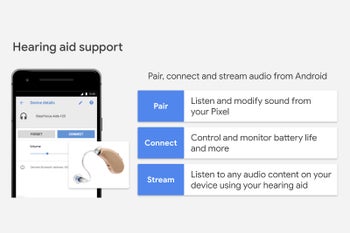 Providing a robust set of accessibility features is an increasingly bigger focus for developers. According to the World Health Organization, around 466 million people worldwide have disabling hearing loss, with the number expected to soar up to 900 million by 2050. This is a serious issue that software engineers need to tackle, in order to make their products accessible to as many people as possible.

This is why Google has now announced that it would bring native hearing aid to Android. The Internet search giant has partnered up with Danish hearing aid manufacturer GN Hearing to create a Bluetooth, low-energy hearing aid spec aid spec for Android smartphone. Called Audio Streaming for Hearing Aids, or ASHA in short, it uses Bluetooth Low Energy Connection-Oriented Channels to allow streaming from the phone to a connected Bluetooth hearing aid device, providing while providing a high-quality, low-latency audio experience with minimal impact on battery life.
GN Hearing is naturally the first hearing aid manufacturer to employ the new spec. Following the Google partnership announcement, the Danish manufacturer revealed that users of the ReSound LiNX Quattro and Beltone Amaze hearing aids will be able to use the feature following an OTA update.