Best phone deals on Cyber Monday 2021: what to expect
0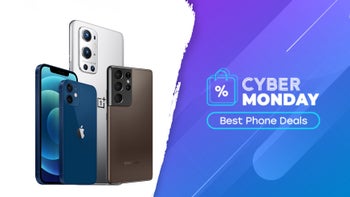 Cyber Monday 2021
is still months away, but that doesn't mean you can't start planning your shopping spree. The shopping event offers some of the biggest discounts on tech each year. And even though in recent years it has turned into more of an extension to
Black Friday
, it still is the only shopping event that focuses purely on tech.
So, what better time to buy that
Galaxy S21 Ultra
you've been dreaming of at a nice price? Until Cyber Monday comes on November 29, you should take a look at some of last year's deals on phones so you know what to expect. Stay tuned, as we will update this article regularly when the deals start dropping.
Where are the best phone deals on Cyber Monday?
The best phone deals during Cyber Monday are mostly found at the big online stores. These include Best Buy, Amazon, B&H Photo, Target, and Walmart. Expect major network carriers Verizon, T-Mobile, and AT&T to have their own sale during the event. Often phone brands' online stores offer discounts on the shopping day as well.
What phones will have discounts on Cyber Monday 2021?
Expect the most popular phones to make an appearance in the offers lists. These include the to be released iPhone 13 phones, the iPhone 12 series, Samsung's Galaxy S21 series, and Samsung's foldable phones. Smaller brands like Motorola and OnePlus also won't disappoint in terms of deals, with their OnePlus 9 and Nord series, and Motorola's Edge and RAZR (2020) phones. TCL's new 20 series and the upcoming Google Pixel 6 should be present as well.
Cyber Monday iPhone deals
Even though the iPhone 12 series was just released back then, there were plenty of deals on the phones during last year's Cyber Monday. The iPhone 12 and 12 Pro were $150 off at Walmart and $100 off at Best Buy. Verizon offered a 'buy one get one free' iPhone 12 with new unlimited plan. AT&T offered the 12 mini for free with an eligible trade-in and a new unlimited plan as well. The regular iPhone 12 was offered for free by T-Mobile with a trade-in and switch to the carrier. Apple offered a $50 gift card and up to $210 worth of discounts with trade-in during Cyber Monday at its online store.



AT&T offered the iPhone 11 for half the retail price with contract during Cyber Monday last year. The iPhone SE (2020) and iPhone XR were free on AT&T with new unlimited contract and eligible trade-in.



The iPhone 11 Pro was $350 off from Verizon, making it one of the best Cyber Monday deals on iPhones. The older iPhone XS was offered by AT&T for $1/month with new unlimited plan.
Cyber Monday deals on Samsung phones
Samsung offered its Galaxy S20 FE at a massive 50% discount with trade-in, which automatically made the phone a bargain. A smaller, $200 discount on the S20 FE was offered by Best Buy as well, no trade-in needed.



The rest of the S20 series prices were also reduced on last year's Cyber Monday. At B&H Photo, the Galaxy S20 Plus was offered for $520 off. The regular S20 had a discount at B&H Photo too, which was $350 off the retail price.
There were also great offers on the
Galaxy Note 20 Ultra
and the
Galaxy Z Fold 2
. The Galaxy Note 20 and Note 20 Ultra were both $300 off at Best Buy. Another fine deal during Cyber Monday was Samsung's $1000 discount on the Galaxy Z Fold 2 with trade-in at its online store .
Cyber Monday deals on OnePlus phones
Last year there were some great deals on OnePlus phones also. The OnePlus 8 Pro was $200 off at Amazon and $200 off at the OnePlus online store. The OnePlus 8 was $200 off at the company's site too, and it was $230 off at B&H Photo.
The OnePlus 8T has also seen a discount of $120 at Amazon. Currently, the 8T sold at Amazon is once again on sale, with $199 reduced from its original price. Check out the deal by clicking the 'Buy at Amazon' button below.
Cyber Monday deals on Google Pixel phones
Cyber Monday 2020 had deals for the fans of stock Android too. The 5G version of the Google Pixel 4a was $200 off for Google Fi subscribers at the company's online store. Its predecessor, the Pixel 3a, was $160 off at B&H Photo, while its bigger brother, the Pixel 3a XL, was $200 off at Amazon and B&H.
During last year's Cyber Monday, the Google Pixel 5 was still a new model and saw a modest $50 discount at the Google Store, Amazon, Best Buy, and B&H Photo. However, Amazon offered its predecessor, the Pixel 4 XL, at a major $350 discount. The offer was for the White 64GB model.
Cyber Monday deals on Motorola Phones
Motorola's smartphone lineup saw some pretty significant discounts. For example, the foldable Motorola RAZR (2020) was $450 off at Best Buy, which was a pretty great deal. The budget-friendly Motorola Moto G Power (2020) was $75 off at Amazon, with its cheaper sibling, the Moto G Fast, being on sale at the same store for $55 off.

As for the company's upper-midrange models, during Cyber Monday they had some significant discounts as well. Motorola's Edge model was $305 off at Amazon, while its Edge Plus version was $300 off at Best Buy.
Cyber Monday deals on TCL phones
TCL has been gaining speed in the US smartphone market. Last year during Black Friday and Cyber Monday, the TCL 10 Pro and TCL 10L were 30% off at Amazon, Best Buy, Walmart, and B&H. We are expecting similar deals during Cyber Monday 2021 on TCL's new 20 Pro, 20S, and 20SE smartphones.
Cyber Monday deals on Sony phones
The Sony Xperia 1 II was $100 off at Amazon during the shopping event. Its predecessor, the 2019 Xperia 1, also saw a discount at Amazon of $90, but for an additional $70 you were able to purchase the Sony Xperia 1 with a pair of Sony WH-1000XM3 true-
wireless headphones
. We expect similar bundle deals on Sony smartphones this year too.