Apple showcases new Books app
2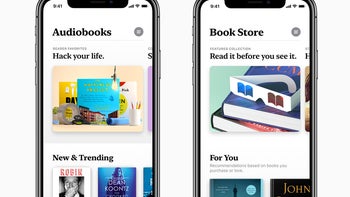 Our first glimpse of Apple Books, the app that will supersede iBooks this fall, was at WWDC last week, but Apple today gave us the grand tour in a new, in-depth preview of the upcoming revamp of its e-book platform.
Apple Books is a complete overhaul of iBooks, built for both iPhone and iPad, that adopts the tab-based interface of other Apple apps and features a minimalist UI with a greater focus on cover art. Furthermore, much like the App Store and Apple Music, the redesigned Books app has its own section for curated content, where editors will be able to highlight and draw attention to stand-out new additions to the library.
Audiobooks are also getting more time in the limelight, with its own dedicated tab, while the Reading Now tab lists all of the books you are currently reading (or listening to). Within the former, there's a new "Want to Read" subsection, which is basically a wishlist for all the titles you want to read in the future. The "Complete the Series" and "You Might Like" section, on the other hand, surface books based on your recent activity and preferences. For example, if you've read through the first Harry Potter book, "Complete the Series" will list other titles from the series, etc.
Apple Books is expected to go live this fall and serve as a replacement of the current iBooks app.