The best Amazon Prime deals on smartphones
We may earn a commission if you make a purchase from the links on this page.
Amazon Prime has always offered sweet deals on phones for its members, though with a bit of a catch. If you went for one of the alluring offers, you'd have to put up with ads on your lock screen. This was a non-issue for some people, but many others did not take as kindly to it. Fortunately, the company has decided to stop this practice and sell the devices with pre-installed Amazon apps instead, which is a much better solution.
So, if you are an Amazon Prime member, and have been holding off due to the annoying ads, now's your chance to snag a new phone on the cheap. There are currently eight smartphones available with different rebates for Prime members, and some of them may very well be worth your time and money. Check 'em out below!
The
LG
G8 ThinQ may look like your typical phone on the outside—with a familiar glass-and-metal construction and a screen stretching from edge to edge—but on the inside, it packs some sci-fi-grade bells and whistles. It lets you unleash your inner Jedi with its Air Motion gesture controls, while Hand ID, as its name implies, allows the G8 to recognize its owner by scanning the palm of their hand.
But party tricks aside, the LG G8 has a lot more going for it. On its inside ticks the Snapdragon 855, which is currently the most powerful chip you can get in an Android phone. It also packs a dual-camera setup and one of the largest batteries we've seen in a high-end LG phone.
LG V35 ThinQ
The LG
V35 ThinQ
is somewhat of an incremental upgrade over the LG
V30S ThinQ
, but a welcomed one nonetheless. It has a beautiful 6-inch OLED display, surrounded with thin bezels and encased in a metal frame with a glass back. The V35 ThinQ runs a Snapdragon 845 backed by 6GB of RAM and a 3300mAh, which means it's a great performer with a decent battery life.
On the back, there's a dual-camera setup that combines a regular lens with a wide-angle shooter for stunning landscape shots. The camera hasn't dramatically improved since the V30, but the wide-angle lens now has less distortion, while the software has been tweaked for cleaner results. Of course, the fan-fvaorite quad-DAC makes a return on the LG V35 ThinQ and it does deliver great audio through the 3.5mm headphone jack.
Moto Z3 Play
The
Moto
Z3 Play is the latest in the line of affordable Moto Mod-compatible devices. Succeeding last year's Z2 Play, the Z3 has better design and is notceably snappier. It is, however, a bit thicker, while not improving things much on the battery front and does not sport a 3.5mm headphone jack like last year's model did. Still, it features a faster Snapdragon 635 CPU inside and does, indeed, look pretty nice (especially considering the price point). The front-facing camera has also been improved, bumping the resolution from 5MP to 8MP, while the main camera module now sports two snappers for portrait mode (a.k.a bokeh) shenanigans. The
Moto Z3 Play
is now on offer with Amazon Prime for $50 off MSRP.
Moto Z4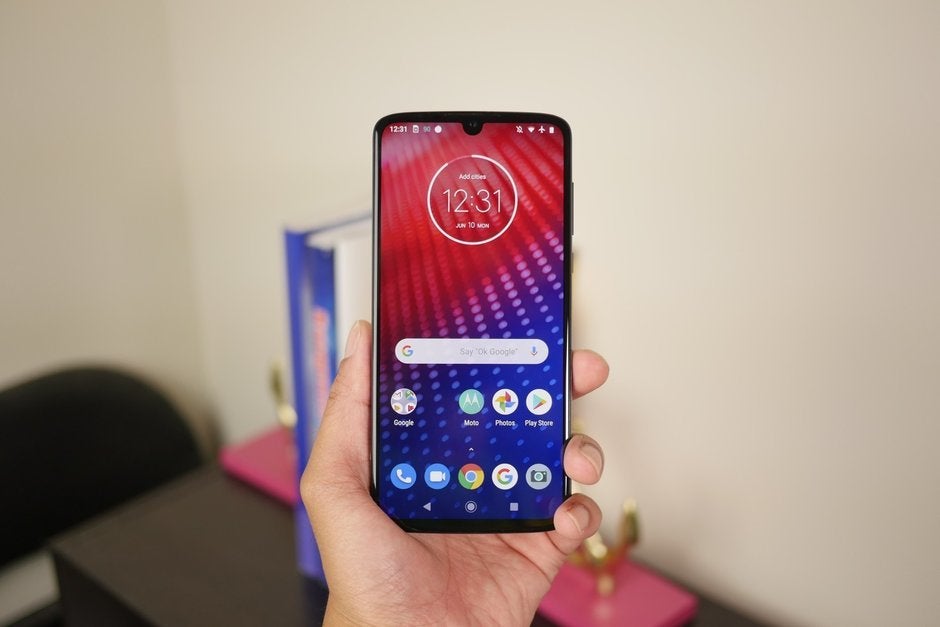 There was a time when the Moto Z series was meant to compete head-to-head with the best Android smartphones on the market. The new Moto Z4 shows that the Z series is now on a totally different path. Indeed, it is the latest Moto flagship phone, but in the greater scheme of things, it has "mid-range" written all over it. It seems as through the Moto Z line is now focused more on the core experience rather than the specs – on proving that a phone doesn't need all the bells and whistles to be a meaningful handset for the masses.
The Moto Z4 offers a solid camera, great battery life with fast recharge, and also has a headphone jack (for the many who miss it). It also looks nice, with its thin bezels and unobtrusive water-drop style notch, and is a stellar performer that doesn't break the bank.
Moto G7
The new Moto G-series phones are an evolution in terms of design, with thinner bezels and more stylish looks, rather than a revolution. They are faster with the Snapdragon 6xx series chips inside, and they work reliably, with a clean and likeable interface. The Moto G7, in particular, at $259.99, is very good value for the money, and while it does not push the envelope with some unthinkable specs like, say, the
Pocophone F1
, it is a safe and reliable choice. Performance is zippy, the software is clean, the display is decent and the camera can take some good shots during the day. This is a budget workhorse that we can easily recommend.
Moto G6
The Motorola Moto G6 offers a great bang for your buck. It sports a metal-and-glass design with a curved back for a comfortable in-hand feel. The display is a 5.7-inch, 18:9 panel with a 1080 x 2060 resolution that delivers sufficient brightness, although it isn't superb for outdoor use during sunny days. The Moto G6 is powered by the Snapdragon 450 chipset, has 4GB of RAM, 64GB of expandable on-board storage, and a 3000 mAh battery, which delivers surprisingly good screen-on time. The Moto G6 is now available through Amazon Prime for $15 off its usual price.