ZTE Blade III is officially announced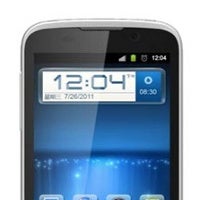 We've already seen leaks of the
ZTE Blade III
, and now the device has finally stepped out of the shadows with an official announcement. The Blade III is clearly a budget-oriented device that does nothing to stand out in the Android crowd.
The phone features a 4-inch WVGA display, a 1GHz Qualcomm chip and 512MB of memory. The Blade III runs on Android 4.0 Ice Cream Sandwich, but design-wise it looks more like a Gingerbread phone with its 4 capacitive buttons below the screen.
The device also sports 4GB of internal storage, but luckily you can expand that with a microSD card of up to 32GB.
Finally, the ZTE Blade III is initially coming to Nordic markets in October with a price of merely $228, or 1,499 Swedish krona.
source: ZTE
World premiere of ZTE Blade III smartphone in Nordic markets


With a 4-inch screen, ten times more memory and upgraded operating system, mobile users can enjoy an even sharper multimedia experience – without compromising on price


Stockholm, 20 September 2012 – ZTE Corporation ("ZTE") (H share stock code: 0763.HK / A share stock code: 000063.SZ), a publicly-listed global provider of telecommunications equipment and network solutions, today launched the ZTE Blade III, the third sequel of the ZTE Blades series. ZTE Blade III premieres on the Nordic market and once again combines high performance with a moderate price point. With an expanded storage memory, an enlarged 4- inch screen and an Android 4.0 upgraded operating system, the Blade III further improves the user experience by offering extra space to store pictures, music or apps, and providing an excellent video or gaming experience. By launching Blade III ZTE continues to deliver on its vision: better performance for money.
"With Blade III we have paid extra attention to our users. We have focused on a larger screen and expanded the storage space significantly. ZTE Blade III is the first ever smartphone in its price range with a 4-inch touch screen and Android 4.0. This enables more users to take part in an extremely sharp multimedia experience, without costing an arm and a leg," said Mr. Ao Wen, Vice President of Europe Operations for ZTE Handsets.
The ZTE Blade III is an easy-to-use smartphone with WiFi, a 4-inch WVGA touch screen and, 2.5 GB memory which can be further expanded with a 32 GB memory card. The 5 megapixel camera with autofocus, and support for video and audio standards including MPEG4 and, AAC+ makes it easier and more fun to watch movies, use social networks and listen to music.
Blade III will be launched in black in Sweden in October and in white in Finland in September. It will have a recommended reseller price in Sweden at 1499 SEK and will launch in other key markets around Europe and the world throughout 2012.
Specifications


- 4 inch WVGA (800x480) 262K TFT Capacitive Touch Screen

- Weight: 130 gram

- Aize: 123 mm x 63.5 mm x 10mm

- 1GHz Qualcomm MSM 7227 A processor

- Android 4.0

- Memory: ROM 4 GB, ca 2.5GB accessible to the user, RAM 512 MB

- Supports Micro SD memory card up to 32 GB

- 5.0 MP AF camera

- HD-ljud, Dual Mic

- Mobile standards: HSDPA (7.2Mbps) /UMTS/ GSM/GPRS/EDGE

- Audio standards: MP3, AAC, AAC+, midi, wav, AMR-NB

- Dolby, DLNA

- Video standards: MPEG4, H.263, H.264

- Wireless communications standards: Bluetooth™ 2.1, A2DP, GPS, WiFi 802.11 b/g/n

- Battery capacity: Li-ion1600 mAh

- FOTA (Firmware Over-the-Air) – funktion som används för att på ett smidigt sätt uppgradera smartphones