Yet another built-in HTC One M9 wallpaper revealed
7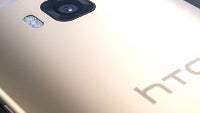 Thanks to his use of some kind of voodoo magic, custom ROM developer LlabTooFeR has somehow managed to get his hands on the HTC One M9's stack of built-in wallpapers, promising to reveal one per day until the official announcement that is due to take place on the 1st of March. Today marks the fourth consecutive day since, and that means we're treated to yet another wallpaper that will be available to future One M9 owners.
If you dig abstract walls, then you'll dig this one. It's also a whole lot livelier than ones we've seen so far, which is a welcome break. The wallpaper, along with the rest that have been leaked already, are all available for download through the slideshow gallery below (just zoom into the picture, right click > Save image as).
For those of you just tuning in, if these all prove to be legit, then we have tangible proof that the HTC One M9 will feature a display with a 1080 x 1920 resolution. We surmise as much based on the wallpapers' 2180 x 1920 resolution, which is typical for scrollable 1080p walls. If you just can't help it and
have
to be in tune with the times and get yourself a smartphone with a QHD screen, keep in mind that rumors have it that HTC is prepping a One M9 Plus version, which will supposedly feature a 5.2-inch, 1440p display.