Yet another Angry Birds game is coming our way, launching on December 22
4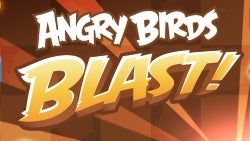 Rovio, the creators of Angry Birds, just can't get enough of their main money-making machine. With more spin-offs than you can shake an oversized slingshot at, the novelty value of the colorful, but shockingly bitter birds, has really gone down a long time ago. However, this won't stop Rovio from milking the cash cow that is the Angry Birds franchise.
The company behind the popular game will be releasing
"Angry Birds Blast!"
, a new spin-off, this time a match-three puzzle, similar to Candy Crush Saga in its gameplay. As is expected for the genre, matching more than three birds of the same kind will result in different awards, such as points and power-ups.
Of course, there will be in-app microtransactions, but if you sign up to be notified when the game launches at December 22, you will be awarded $9.99 worth of in-game gold for free.
We, for one, are quite tired of seeing the Angry Birds everywhere, although we have to admit the movie was rather entertaining. So, we'd like to kindly ask Rovio to come up with a new fresh idea, as they did with the original Angry Birds game. And no,
"Love Rocks Starring Shakira"
doesn't count.