Xiaomi once again copies Apple, this time with a huge stock market collapse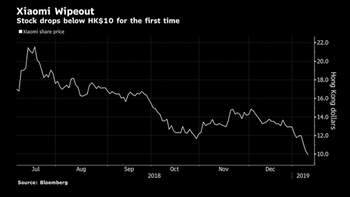 Apple's shares, as many of you already know, have dropped 34% from its peak. Last week, the stock had a particularly bad day after
Apple CEO Tim Cook announced that the company was lowering its guidance
of fiscal first quarter revenue due to weak iPhone sales in China. The very next day, the stock crashed nearly 10% lower, and have struggled to recapture some of that lost ground since.
Well, it seems that Xiaomi, once known as China's Apple, is also going through a downward adjustment of its valuation. Over the last three days, shares of the company have dropped 17%, removing $6.2 billion of Xiaomi's market capitalization. The stock trades on the Hong Kong Stock Exchange and closed today at HK$9.97 ($1.27 USD), its first close under HK$10.
The decline took root as brokerage house analysts following Xiaomi have cut the smartphone manufacturer's earnings estimates. Most cite the weaker economy in China and tougher competition from other Chinese firms such as Huawei. In addition, 3.9 billion shares that were purchased for as low as 2 Hong Kong cents from as far back as 2010 are now free to trade following the expiration of a six month lock up.
Xioami is now valued at $238 billion, and traded as high as HK$22.20 earlier this year.