XDA Flame and XDA Apollo - couple of new PPC from Quanta
This article contains unofficial information.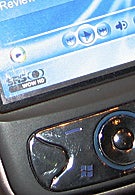 PocketPCThoughts got their hands on some tasty information about the new PocketPC targeted to the O2 Carrier with the internal name XDA Flame: a bar sporting VGA resolution for the enormous 3.6" touch display, 2GB flash ROM, and Intel Xscale PXA 270 processor running at 520MHz. Additional NVIDIA GoForce 5500 GPU processor cares for the photo, graphics, and games performance of the device. The Windows Mobile 5-powered phone also features 2-megapixel camera, Bluetooth, WiFi and USB On-the-Go, as well as SRS-mobile surround sound and TV-out connector. It is tri-band phone for Europe/Asia.
O2 XDA Flame
Source: PocketPCThoughts
We just got the information about another hi-end device manufactured by Quanta for O2 – the XDA Apollo. It is another tri-band GSM/EDGE phone running on OS for Pocket PCS, but this one seems to be smaller model; it also has 2-megapixel camera and stereo speakers, but this one will probably pack smaller display (QVGA) and will lack the graphic processor.
O2 XDA Apollo
Source: FCC