Windows Phone-flavored Nokia 703 leaks out, blurry cam pictures test our detective abilities
70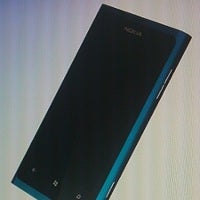 Why, hello there images of what could be the
first Nokia Windows Phone
! Posing for the blurrycam, the
Nokia 703
seems to have already been shown at a carrier presentation and could well be the first fruit of the Microkia partnership, so we've reached out for our Sherlock Holmes magnifying glass to reveal all the details.
Now, let's first mention that this could be just a fake image, but given the fact that just yesterday folks over at WPCentral found out about a Nokia 703 showing up in the "I'm a WP7" app, it seems credible. Save for a missing button on the right, the Nokia 703
looks very much like the previously
leaked Nokia Sea Ray
, which in turn mimics the MeeGo-powered
Nokia N9
.
But it's the filling of this blue candy of a phone that will determine its success in Windows Phone land, so what does the barely legible text read?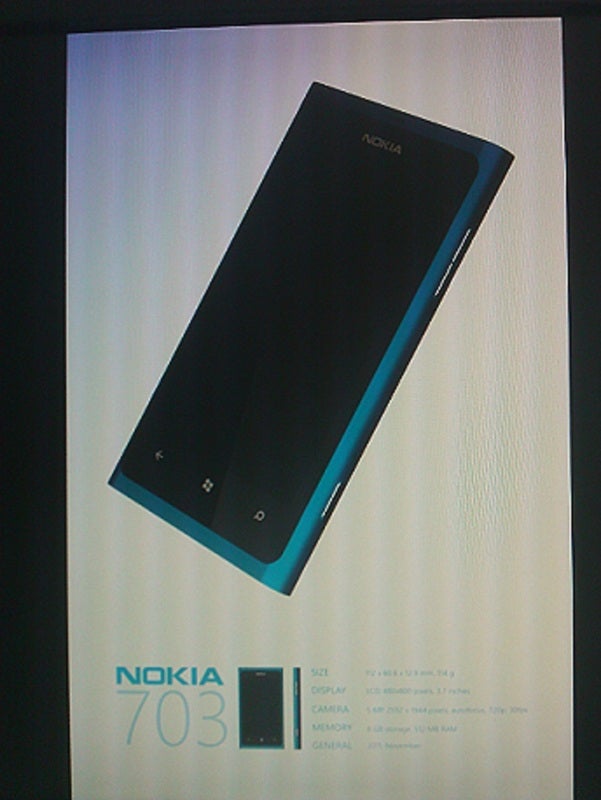 It seems that the Nokia 703 won't be featured in the slimmest phone race as it looks like it's profile measures at 0.48 inches (12.3mm). The weight is where our detective abilities failed as it could be 154g, 134g or something different altogether - help us out if you manage to discern the exact number!
A
3.7-inch LCD screen
with 480x800 pixels of resolution dominates the front, while on the back there is a 5-megapixel autofocus camera capable of 720p video capture at 30fps. Under the hood, 8GB storage and 512MB RAM help power Windows Phone Mango.
Otherwise, no cutting edge specs here, are there? Will the colorful looks and curvy design be enough to get you interested in this possibly first Nokia Mango device?