Windows Phone 8.1 allows you to pin websites with Live Tile support
31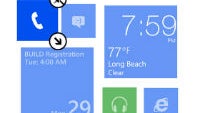 There are a
ton of new features
in Windows Phone 8.1, we've already gone into that quite a bit, because we knew a lot about what was coming before the update was made available for testing. But, of course, there are always features that might not be announced and you wouldn't know about until you find it. One of those nice features is the ability to pin websites to your Start screen.
This alone isn't really all that interesting, both Android and iOS have allowed for placing website shortcuts on your home screen for quite a while now. But, Windows Phone makes the experience a bit better by allowing for Live Tile support. Not all websites are compatible, but if a site is set up for it, the pinned tile will give a scrolling feed of headlines from the site. So far, it works well with CNN, MSN, and a couple other sites, but you'll basically have to try out your favorite sites to see if they work.
It would seem likely that Microsoft would want websites to optimize to support being pinned as a Live Tile, but given that the company hasn't mentioned the feature at all, maybe Microsoft is just going to let it go and hope things fall into place.