Windows Phone 7 handsets from Samsung have the ability to do USB tethering?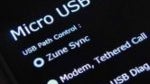 Strangely enough, it appears as though Windows Phone 7 smartphones from Samsung have the ability to offer USB tethering out of the box. Just like how we thought that Windows Phone 7 devices wouldn't offer
storage expansion via a microSD card
, it looks like the topic of tethering might soon change as well.
Although it doesn't look like it's able to be pulled off on any other Windows Phone 7 handsets aside ones from Samsung, it requires a quick and easy to do hack to enable using your fancy new smartphone as a 3G modem. Specifically, you'll need to pull up the dialer and punch in ##634# to launch the diagnostics menu, punch in *#7284# in the next menu, move over to the "Modem, Tethered Call" mode, and then pass through some additional prompts to get the automated USB tether completely activated.
So if you're sporting either a Samsung Focus or Omnia 7, you can give it a shot and see if you can get this much wanted feature enabled.
source:
HDBlog.it
(translated)
USB tethering option uncovered on Windows Phone 7 smartphones from Samsung
Recommended Stories