Windows 8 tablet demo possibly coming in June
3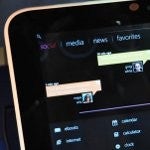 Word on the street is that Microsoft is gearing up for a public demo this June of their Windows 8 operating system with a custom user interface designed specifically for tablets.
According to the "sources at Microsoft" that spoke to Business Insider, Microsoft is taking an Apple like approach to the design of their future tablet's UI. Back in September, Microsoft showed off a tablet with a UI reminiscent of that found on Windows Phone 7 devices, but the tablet itself had Windows 7 underpinnings, rather than the unreleased Windows 8.
If Microsoft is getting ready to enter the tablet wars with a device running on something other than the Windows 7 operating system, this type of UI may be a good direction to go in. They have already said that their tablets will not adopt their phones operating systems in the way that the Apple iPad has. Take a look at the picture from this past September courtesy of Engadget, and tell us what you think in the comments below.
source:
Business Insider
via
Engadget