White Apple iPhone 4 is about to make an appearance with Rogers soon?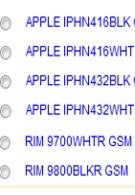 At this point in the game, there are probably a decent amount of people who have given up all hope in seeing the white version of the iPhone 4 and most likely succumbed to buying the one with the usual black paint job. By now, we've all heard about how the
white version is considered to be a challenge in manufacturing
– which ultimately kept on being
delayed
with no specific time frame for its availability.
However, an internal Rogers inventory screen shot might reveal a surprising turn of events as it looks as though that both the 16GB and 32GB versions of the white iPhone 4 are probably ready. As for a time line for its arrival, it's heard that its presence in the Sales Central employee internal tool indicates that a launch could be imminent – so it's nonetheless surprising to see this happen on Rogers; especially when we haven't heard anything about it with other carriers.
If it's indeed true, we're sure that there are going to be some people happy about it. But then again, there will be others kicking themselves for not waiting just a bit longer.
Apple iPhone 4 Specifications
|
Review
source:
The Cellular Guru