WebOS may soon get Mozilla's Weave Sync feature?
This article contains unofficial information.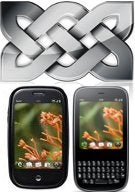 Palm's very own web browser for webOS is by no means a small time player in the world of mobile web browsing. It's pretty in-depth with its easy to juggle set of cards for each link you open; plus it has support for multi-touch as well. So do you really think webOS owners may see an outside source being added on to the already versatile browser? Actually, Mozilla Labs has announced that they're in with webOS as they work on a Weave Sync client for the platform. For those who aren't familiar with it, Weave Sync is Mozilla's way of syncing bookmarks, passwords, history, and even open tabs from Mozilla Firefox on your desktop to you webOS handset. Right now it looks like it's just a test to see if the client can work properly – in reality it is just a viewer for your data; as opposed to having the ability to make edits. Although there is very little hope in seeing a mobile Firefox version for webOS because the platform is pretty much locked down, there is a placeholder inside the launcher for "Default Applications" to someday set an alternate browser as the primary one. Still, the integration of Weave Sync points to a possibility that may happen someday.
source:
Mozilla Labs
via
PreCentral