Watch Dutch supermodel Doutzen Kroes advertise the Galaxy Alpha for your viewing pleasure
25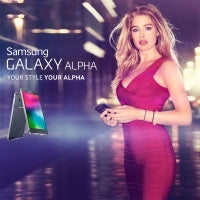 A smartphone as good-looking as the Samsung Galaxy Alpha takes quite the display of beauty to advertise it properly. Luckily, Dutch angel Doutzen Kroes was up for the challenge and shot a series of glamorous commercials for Samsung's chief iPhone 6 competitor. After carefully evaluating the video from various angles in our research center, we're happy to confirm that gorgeous Doutzen, who we'd totally
swipe right on Tinder
by the way, has done a
satisfactory
job promoting Samsung's beautiful metallic phone.
In the video, you can watch her do typical supermodel stuff, such as partying with friends in high-class establishments, taking a group selfie with super-fast autofocus, and looking especially happy chatting on the Galaxy Alpha in the back of a limousine. The video carries a "Your Style, Your Alpha" tagline that we're not totally sure what to make of, but every ad needs a tagline, so there you have it.
The Galaxy Alpha
, which as of recent is brightening up our office with its metallic sheen, offers a 4.7-inch 720p super AMOLED display, a Samsung-made octa-core Exynos 5430 processor, 2GB of RAM, and a 12MP main camera. It also has a fingerprint sensor and heart-rate monitor, but mostly, it is about overpowering Samsung's "cheap design" stigma.
When you're able to un-glue your eyes from Doutzen for a minute, feel free to
check out our review
and comparisons of the Samsung Galaxy Alpha.