Vivo makes the first phone with in-display fingerprint reader official (front scanner, no bezel)
37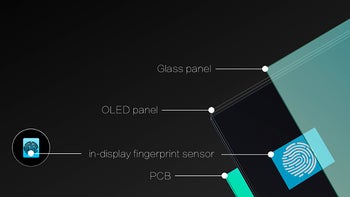 Just as
promised
, Vivo finally pulled the wraps off the first phone with fingerprint scanner
embedded in the display itself
today. About a month ago,
Synaptics unveiled its Clear ID FS9500 sensor
, and said that it will be featured in a "Top 5" manufacturer's phone before long. Since Vivo's parent company BBK is also associated with the Oppo and OnePlus brands, together these have wiggled into Tier 1 by selling boatloads of phones in China.
Long story short, Vivo issued a press release today, basically announcing the phone, and confirming the existence of the in-display fingerprint scanner on it. Vivo stayed mum on other specification details, choosing instead to wax poetic about the advantages such a fingerprint reader brings. First off, it is front-facing, for all the fans of this placement, and, second, it still allows for a "bezel-less" phone footprint, the best of both worlds.
As for the technology behind it, Vivo provided the scheme above, which coincides with Synaptics Clear ID FS9500 sensor workings, aided by a dedicated interface that lights up when finger scanning is needed, but stays put when you are using the phone in a regular manner. The indicator that asks you to place a finger on it will be present for unlocking your phone, accessing protected content, or doing mobile payments that require biometric authentication, but other than that you can't really tell there's anything else but an OLED display there.
Neat, now the only thing left is for Vivo to actually name the device, and provide more details on specs and pricing, prior to the phone's availability announcement, slated for "
early 2018
." Will this thing work through a screen protector? We'll know more soon.