Vincent Laforet aids aspiring photographers with his Visuals app for iDevices
0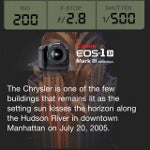 Vincent Laforet
is a name familiar to many people interested in photography, a muse and inspiration for plenty of aspiring young photographers craving to become the next icons of this art form. Laforet, a French-American photographer born in Switzerland, has received the Pulitzer Prize for Feature Photography and is the author of some striking photos published in the New York Times Magazine, Time, National Geographic, Vanity Fair and Sports Illustrated among others.
"Visuals by Vincent Laforet"
. This application is available for the iPhone, the iPad and the iPod touch and it offers a lot of technical information (settings and details like white balance, focal length, metering, ISO, f-stop and shutter speed), as well as further explanations why these particular settings, camera and lens were used when producing a particular photo. This is, no doubt, a valuable information for everyone interested in the technical side of image making. The rest of us, who are more concerned with the aesthetical part of the process than the technical know-how, can browse among 63 iconic images put into seven different collections. Videos of Vincent Laforet sharing the story (and some technical details) behind each image are also available with this app.
As you can see from the video below, Visuals by Vincent Laforet has an easy-to-use interface and it's a free app, as long as you only access the New York Times category. To see the entire collection (7 categories, 63 images) presented in the app, you have to pay $4.99 and $9.99 for the iPhone and the iPad, respectively, while it costs you $0.99 to purchase a single collection for the iPhone and $1.99 for the iPad. Visuals by Vincent Lafore is already available in the App Store (link below). Enjoy!
iTunes