ViewSonic ViewPad 4 Hands-on
8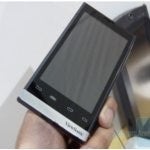 More recently, ViewSonic took a plunge head first into the world of tablets with their Android powered ViewPad 7 tablet, but now they're branching out to the smartphone market. Way back before the smartphone revolution exploded onto the scene, ViewSonic was happily manufacturing a handful of Pocket PCs during the early portion of the last decade. However, they're now staging a move into the smartphone realm with their
ViewSonic ViewPad 4
that's going to attempt to compete in an already aggressive live or die market.
Obviously, it's safe to say that at this point that the development of the ViewSonic ViewPad 4 is still at the early stages – which is evident by the fact that a non-functioning unit was on hand at their CES booth. Regardless of that, the mock unit provides us a quick glimpse of what its design is shaping to become. And with that knowledge, we're rather awkwardly perplexed at the handset's
uninspiring and downright repulsive looks
. First and foremost, there is nothing original with the handset since it literally exudes a boxy design that makes you cringe at its less than appealing tastes. Furthermore, the design of the ViewSonic ViewPad 4 throws out any acceptance of ergonomics with its straight lines and 90 degree angles. Lastly, it'll be interesting to see whether or not ViewSonic will throw their own customized experience on top of Android 2.2 Froyo.
Specs-wise, there are some things to get excited about, but it's pretty much the
cookie cutter recipe
to becoming like any of the other contemporary offerings out there. Aside from its 4" display, some of the other highlights include a 1GHz Qualcomm MSM8255 processor, 512MB RAM, 5-megapixel rear camera, 0.3-megapixel front facing camera, GPS, Bluetooth, Wi-Fi, and 720p video recording.
All in all, it's a vessel for some high-end specs, but combine that with its sour looking design, it's going to be difficult in attracting consumers who base some things first by their visual appeal. Long before it reaches the final production stage, ViewSonic will probably want to look at the competition if they truly intend on entering this already fierce category.