Video shows winner of browser battle between mobile Safari, Android and IE9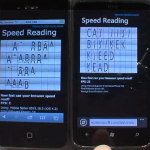 Mirror, mirror on the wall, who has the fastest browser of them all? Microsoft decided to find out the answer to this question by putting an Apple iPhone, a Nexus S and an HTC Windows Phone 7 device through a browser battle. Without trying to give anything away, we can tell you that the benchmark used in the battle was made by Microsoft, the video was filmed by the guys from Redmond and this all took place at a Microsoft conference. Want to take a guess now which platform won?
We also need to tell you that the browser used on the HTC Windows Phone 7 device is the upcoming IE9 with hardware acceleration in the browser which means that the software on the HTC Windows Phone 7 device is not yet available for the public to use. Using an unreleased browser to compete with two browsers currently available possibly skews the results in favor of a desired objective-it is not playing on a level playing field. In fact, it is like comparing oranges to an Apple-and an Android.
source:
YouTube
via
GeekWire
,
ElectricPig