Video highlights new HTC Android device, perhaps the Wildfire 2?
2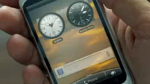 A new video released by HTC shows a new Android flavored device. The idea behind the video is that every innovation created by the Taiwanese based firm is a result of something that you-the customer-does in everyday life to inspire the design of the phones.
Is this a brand new HTC model? One suggestion as far as the device is concerned is that it could be the HTC Wildfire 2. Regardless of what phone it is, we would imagine that the timing of the video is telling us that we will find out more in the coming days during MWC in Barcelona. You can get a look at the device yourself by clicking on the video below.
And if you want to catch hands-on reports of those smartphones and tablets that you have been keeping a close eye on, we will be at MWC ready to pass on to you the information that you want to read!
source:
Engadget