Vers 1Q is a Kickstarter success story: wooden Bluetooth speaker funded, shipping in November
3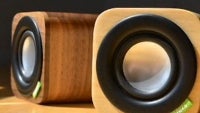 Vers 1Q
is the latest Kickstarter success story - the wooden Bluetooth speaker exceeded its funding target 10 times and the makers said it's coming this November. It differs from other portable speakers in the choice of materials - the wood makes for an all-natural sound, according to its creators.
But how does the Vers 1Q look like? In reality, it's a 3-inch cube, so it's definitely very, very portable. You can also pair it with another 1Q speaker for stereo sound. Having Bluetooth connectivity doesn't mean you can't hook it up to your standard 3.5mm jack - there's a port for that as well.
If you fund it (it still has 9 days to go), you'd get yours for $95 when it arrives in November. If not, and you still want to get it, once it's out the price will grow to $120 on retail shelves. Check it all out below.
source:
Kickstarter


VERS, INC REVEALS THE 1Q, A HAND-CRAFTED WOOD BLUETOOTH SOUND SYSTEM

Compact, powerful speaker delivers warm, natural sound from any mobile device; successfully funded on Kickstarter

Saxonville, Mass. – August 7, 2012 – Vers, Inc., a creator of compact, hand-crafted wood sound systems and mobile accessories, is excited to announce the 1Q, a Bluetooth sound system that can fit in the palm of your hand. It has dramatically surpassed its initial funding goal on Kickstarter, and will begin shipping this Fall.

"The response to the 1Q on Kickstarter has been simply amazing, and has exceeded our expectations 10X," says David Laituri, founder of Vers and 1Q designer. "We've also gotten a lot of feedback for our approach from the Kickstarter community, a great co-development experience for everyone at Vers!"

The 1Q is wrapped in a 3" wood cube, and connects to any mobile device (smart phones, tablets, laptops and more) through Bluetooth v2.1. It's the perfect, portable speaker system for anyone who wants to bring along their favorite music. The sound reproduction of wood is unmatched, as it provides a natural warmth.

The 1Q has a 30-foot range, and a rechargeable battery that lasts over 10 hours. The 1Q also has a built-in auto switching capability to convert from mono to stereo when two units are linked to create a micro stereo.

For each tree used in production, 100 are replanted through Vers' partnership with The Arbor Day Foundation and the U.S. Forestry Service. "We're excited to be able to go beyond simply achieving sustainability with 1Q, to helping restore the environment where it's needed the most," says Laituri.

The Vers 1Q comes in Walnut, Bamboo, and a limited Kickstarter red Beech edition. It will retail for $119.99. You can see a full list of pledge options by checking out the 1Q Kickstarter page.


Recommended Stories