Verizon version of Sony Ericsson Xperia PLAY gets update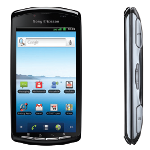 Sony Ericsson Xperia PLAY
? Nothing wrong with that if you're a PlayStation fanatic and love sliding out that game controller. And to reward you guys who have stuck it out, Verizon has sent out an update that allows you to record video in 720p in continuous autofocus. VZ Navigator and Video On-Demand have been added including support for 3D maps on the former, and a long press of the power button will allow the phone to take screenshots. As for the OS, version
2.3
.4 is now running the show.
According to Verizon's site, the update also
improves the user experience and the delivery method of pre-loaded games
. When connected via Bluetooth, the music player now offers fast forward and rewind functions. Some bugs have been fixed such as the one that left the phone in landscape mode when it was being charged and recommended contacts populate correctly when the dial pad is in use.
Other changes include the ability to snap a picture using the right trigger, support for the Wireless Emergency Alerting System and lastly, the ability to turn off the Mobile Hotspot ID Broadcast for security purposes.
source:
Verizon
via
Phandroid