Verizon releases another 4G LTE HotSpot, the Novatel MiFi 4510L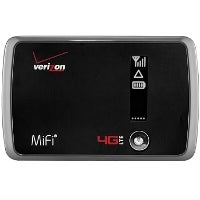 Earlier this month, Verizon released their first 4G Mobile Hotspot, the
Samsung SCH-LC11
. Now it has some competition from the new
Novatel MiFi 4510L
, as both come with the same
$99.99 price
(with 2-year contract). Both will allow up to 5 devices to connect to them over Wi-Fi, which in turn is connected via the HotSpot to Verizon's 4G LTE network, but is also backwards compatible with 3G EVDO. A few of the advantages of the Novatel MiFi 4510L is that it has a LCD display, which will show the current signal strength, roaming indicator, battery level, GPS, SMS indicator, and how many devices are connected.
The Novatel MiFi 4510L (4G LTE) for Verizon Wireless is similar to the
MiFi 4082
(4G WiMax) for Sprint, but the 4082 model comes with a built in microSDHC memory card slot that can be used as a network storage drive, while the 4510L does not.
source:
Verizon Wireless