Verizon plans on midnight parties and early opening for some stores thanks to R2-D2 DROID 2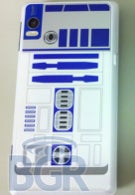 You don't want to be alone when you head over to Verizon to buy the limited edition DROID 2 R2-D2 model, do you? No, you want to be with other like-minded Star Wars fans who know that Jar-Jar does not refer to the glass container where you can find the pickles-pickles. In order to get the camaraderie associated with this event, Big Red is holding midnight parties at some locations so that when the clock strikes 12 and the calendar changes to the 30th, the Star Wars Special Edition handset can be purchased.
It looks like Verizon is limiting this event to stores on the West Coast. A list of stores that are changing their hours for the launch can be found below. Some of the locations will be open at midnight, others will be opening at 6am on the 30th. We suggest calling your local store to see what the plans are for the launch.
Motorola DROID 2 Specifications
|
Review