Verizon cuts prices on new Droids: Droid MAXX down to $199, Ultra to $99 and Mini to $49
36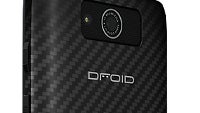 Motorola's new Droid phones on Verizon have received warm reception as they support all the neat features of the Moto X like always-on voice command listener, and now you can get them for a much lower price.
The Verizon
Motorola Droid MAXX
, a handset that sports a whopping 3500mAh battery, one of the largest ever put on a phone, now costs $199 on a two-year contract. This is a $100 price cut from its original $299 price.
The
Droid Ultra
is an extremely thin and sleek device featuring identical hardware, but a less capable battery. It is also receiving a $100 price cut so you can get it for $99.99 with a 2-year pact.
Finally, even the smallest of the bunch, the
Droid Mini
gets discounted by $50 to $49.99.
Out of this trio, we clearly like the Droid MAXX best. It's a great device and its battery is really appreciated. You can take advantage of the lower prices at Verizon stores.
source:
Verizon Wireless
via
Droid Life