Verizon and RedBox looking to partner to provide video service
10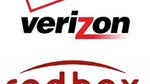 There has been some recent talk about Verizon attempting to create some sort of Netflix competitor. At first glance, this seems like a very ambitious undertaking for Big Red, but with new information surfacing about a potential partner, it seems like a smart move that has the potential to be very successful.
TechCrunch has obtained information that Verizon is in talks with RedBox to create this service as a joint venture between the two companies. The service is codenamed Project Zoetrope and is intended to include subscription, streaming, and downloading service for TV and movies. Project Zoetrope looks to deploy on a variety of Internet-enabled devices such as iOS, Android, Google TV, Xbox and Roku.
May 28th is the targets launch date for this project. So far, we're looking at credit-based monthly pricing. This means you would pay X amount of dollars for Y amount of credits and content will vary in the amount of credits required to view or download it.
So far that is all the details that are available, but it looks as though this project could potentially go head-to-head with Netflix for digital video distribution supremacy.
source:
TechCrunch