Velocomp's iBike Powerhouse is an intelligent companion for all of your cycling exercises
0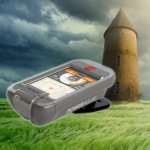 No doubt, there are plenty of people around the world that are trying dearly in keeping their New Year's resolutions, like keeping fit and staying active, but as we've seen, there are plenty of gadgets that try to keep your motivation up.
Perhaps, if you happen to be a cycling enthusiast, you'll probably be enticed by Velocomp's upcoming
iBike Powerhouse
. At its core, it's essentially a shock-resistant case that's attached to a bike using a universal mounting system. Beyond that, it's referred to as an intelligent cycling computer that automatically adjusts to your exercise goals. Actually, the iBike Powerhouse was designed in collaboration with cycling coach Hunter Allen, and works with an iPhone or iPod Touch.
Now what's unique about it is the various
goal-based plans
offered with the accompanying app, where users can choose workouts that include iSlim, Express Fitness, Brazilian Butt, Kid Fit, Weekend Warrior, Zero to 50 miles in Three Weeks, and Healthy Heart. And if that's not enough for your regimen, there's always the additional in-app trainings that you can purchase to lengthen your routine.
$269
. Yes, it might seem steep on paper, but we're sure there are going to be some exercise buffs that might find the entire thing engaging. Hey, it'll help you out in keeping your resolution too!
source: Velocomp via
Engadget
VELOCOMP INTRODUCES IBIKE POWERHOUSE FOR IPHONE/IPOD TOUCH AT CES --
World's First Intelligent Cycling Computer that Automatically Adjusts to Your Exercise Goals
Featuring Fitness Plans "iSlim," "Kid Fit," "Brazilian Butt," & More
Designed by Hunter Allen, the Foremost Power-Cycling Coach in the World
January 3, 2012 – Boca Raton, FL – Velocomp www.ibikesports.com, a leading sports technology company and creator of the iBike Dash CC Cycling Computer, introduced today iBike® POWERHOUSETM, the world's first intelligent cycling computer that automatically adjusts
to your exercise goals. Based on periodic assessments of your fitness improvements, the revolutionary iBike POWERHOUSE works with youriPhone and iPod touch to measure, guide and motivate you to achieve important health, appearance, and fitness goals. The POWERHOUSE method maximizes the benefit of each ride and shortens the time needed to achieve results.
To be introduced on January 10th at the Consumer Electronics Show (CES 2012) in Las Vegas, NV, Booth #3430, iBike POWERHOUSE combines iBike's patented power measurement and analysis technologies with automatically-adjusting, goal-oriented cycling plans -- all delivered through the incredible display and computing power of the iPhone/iPod touch.
Choose Your Goal-Based Plan – iBike POWERHOUSE Guides You Step-by-Step
Working out with iBike POWERHOUSE is easy. Select a goal-based plan, from "iSlim," "Express Fitness," "Brazilian Butt," "Kid Fit," "Weekend Warrior," "Zero to 50 miles in 3 weeks," and "Healthy Heart" -- just some of the plans available through in-app purchases. Then, over a period of 4-6 weeks, iBike POWERHOUSE guides you through a series of 45-90 minute bike rides. During each ride, you are directed to pedal at specific levels of effort (power), customized to the plan's goals and your measured fitness level. So, a "couch potato" will start out at a challenging but lower level of effort, whereas a fitter cyclist will start the same plan at a significantly higher level of effort.
Fitness Plans Designed by Power-Cycling Coach Hunter Allen
iBike POWERHOUSE's fitness plans are designed by Hunter Allen, the world's foremost power-cycling coach. Allen's plans have been proven over nearly 20 years of coaching cyclists at all levels -- from beginner to world class. And, in addition to the structured ride information for each plan, videos are included with tips from Allen for getting the most out of your cycling.
iBike POWERHOUSE is a complete system, including:
· A water/shock resistant case for the iPhone/iPod touch.
· Patented electronics that perform all cycling measurements, including power.
· An app that interacts with iBike's electronics.
· A wireless speed/cadence sensor.
· Universal mounting system.
· The ability to listen to music or take phone calls while cycling
"The iBike POWERHOUSE is the only product that creates cycling plans customized to your fitness level and goals, and that automatically adjusts as you improve", said John Hamann, CEO, Velocomp. "iBike POWERHOUSE is a must for anyone who owns a bike and who wants to achieve measurable improvement towards health and fitness goals."
Priced at $269 MSRP, iBike POWERHOUSE includes the case, electronics, POWERHOUSE app, speed/cadence sensor, iSlim Plan, and mounting system. Additional fitness plans are available in-app, priced at $9.99 each. iBike POWERHOUSE is fully compatible with all bicycle ANT+ HR sensors. For more information, see www.ibikesports.com.
About Velocomp - First to Deliver Precision Measurement and Expert Guidance for Outstanding Sports Performance
Velocomp, LLP is a sports technology company based in Boca Raton, Florida. The first in the bicycle industry to deliver advanced power measurement at a mainstream price, Velocomp is dedicated to product breakthroughs in the areas of performance, measurement, design, and value. Launched in June 2006, iBike® power meters are being enjoyed worldwide by cyclists of all levels. In 2010, Velocomp introduced the iBike Dash, the first complete bicycle system for the iPhone and iPod touch. For more information, see www.iBikeSports.com.