VR is trending up? Google sold a whopping 5 million Cardboard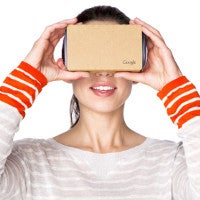 Announced at the end of June 2014, Google Cardboard is a Do-It-Yourself kit for virtual reality made out of, you guessed it, cardboard. In concert with your smartphone—any Android smartphone—and the eponymous Google Cardboard app, users the world over can experience virtual reality for a mere $20. A pretty sweet deal considering that dedicated VR viewers are times more expensive.
Google Cardboard sounds like one of those kind of random, fun projects the engineers at the company routinely come up with. Earlier today, however, Google announced on its official blog that it has sold a whopping 5 million units since the thing first became available. That's a lot, especially considering how obscure virtual reality tech still is today. At least when looking at the bigger picture. But among techies? It seems like the immersive technology already has the vital foundation of early adopters needed to give it a fighting chance of becoming relevant.
In related news, Google announced that the Cardboard app has been downloaded over 25 million times, 1,000 VR-specific apps are already available, and users have watched over 350,000 hours of VR footage on YouTube. 500,000 students have gone on a virtual reality expedition to faraway, or even fantastic, lands.
And you can, too
.
What a time to be alive, eh?