Use Swiftkey? Love Swiftkey? Live in NY, San Francisco or London? Want to be on Camera?
25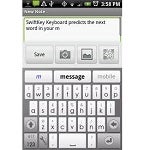 Millions of Android users around the world are using SwiftKey as their method of text input for messaging. It has an extremely accurate and powerful prediction engine which has won the program accolades just about everywhere.
SwiftKey has developed enough of a following that they want to film a series of short videos about their customers and how the app has helped them. The project begins with users in San Francisco, New York City and London.
If you live in any of those areas and are not camera shy, SwiftKey would like to hear from you. Just email the following information to videoproject@swiftkey.net:
Your name, age and gender
Your occupation
Where you're based
A few sentences on what SwiftKey means to you
A picture
If you have not tried SwiftKey, it is available and on sale on Google Play for only $0.99 (normally $3.99), or you can download a trial version which lets you use it for free for one month.
May you find fame, fortune and success!
source:
Android Central