Update to Google Maps 5.7 for Android brings Transit Navigation and more new features
2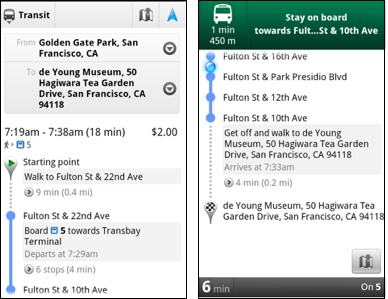 Google Maps 5.7 is now available in the Android Market and comes with some
awesome new features
to help you get where you want to go. One feature, still in beta, is Transit Navigation. This service gives you turn-by-turn directions using GPS while using public transit. This is available for more than 400 cities around the globe. While you are riding a city bus, for example, you can find out when to
exit the vehicle or transfer to another bus
. Even if you put your handset away or start using another app, your notification bar will alert you when you have reached your stop and you can also set up your phone to vibrate at the same time.
The updated Google Maps app for Android now supports one click access to Navigation. If you click on the driving or walking icon and you have selected a route that is supported by Google Navigation, the familiar blue icon will appear and when clicked, will take you to the turn-by-turn directions. Google has also added
category icons
for search suggestions such as a pin for a Google Places recommendation or a star for a 'starred' place or location; a previously used search term will get a clock icon, a person icon appears for contacts while a magnifying glass appears for all others.
Finally Google has added a photo viewer for Places which allows Google Maps for Android users to
look at pictures of possible destinations
before deciding where to go. Google Maps 5.7 can be downloaded for free from the Android Market and requires a phone running Android
2.1
or higher.
source:
Google