Update in next 24 hours will allow Wi-Fi only Apple iPads and Apple iPod touch units to support BBM
3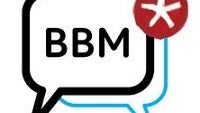 BBM is already
loaded on more than 20 million iOS and Android devices
. That number is expected to rise sharply once BBM updates its iOS app to allow Wi-Fi only Apple iPad models and Apple iPod touch units to access the messaging application. That is expected to take place sometime in the next 24 hours.
Will BlackBerry offer a tablet only version of the messaging app, to take advantage of the extra-real estate on a slate? According to BBM's Executive Vice President Andrew Bocking, the Canadian OEM doesn't have its sights set on a version of BBM for tablets. Bocking added that BlackBerry is always reevaluating whether or nor it would be worth it to offer a version of its messaging platform for larger screens. For the company to produce a tablet oriented version of BBM, it would have to offer some special value to the platform, says the BlackBerry executive.
3G/4G connected Apple iPad units already support BBM thanks to the current app. But there is something inherent in how the messaging service works that makes BBM perfect for non cellular connected, Wi-Fi only iPads. Instead of using phone numbers to connect to another BBM user, PIN numbers are employed. This is perfect for Wi-Fi only iPads which are not tied to a specific cellular phone number.
BBM has become a social gathering place for youngsters thanks to cheap BlackBerry OS 7 models that are often found being priced extremely low with some pre-paid carriers. In addition, many parents are more willing to purchase a Wi-Fi only iPad for their kids so that they don't have to worry about paying for a cellular connection. With that in mind, we could see more youngsters using BBM in the near future.
source:
SlashGear