Upcoming budget Amazon Kindle Fire pops in a render, comes with some seriously thick bezels
9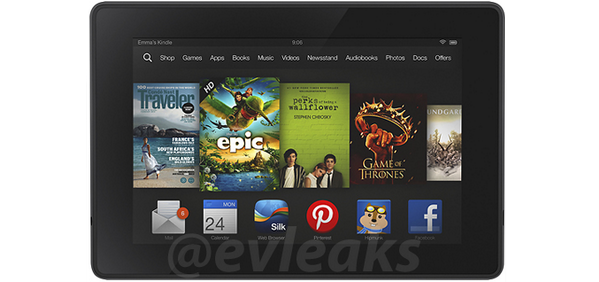 A render of the upcoming nextiteration of Amazon's entry-level Kindle Fire has been ousted byleaker @evleaks, painting a not so pretty picture – the bezels onthis thing continue to be
huge
.Somehow making it past the aforementioned unpleasantness, we can'thelp but notice the slight revamp that Amazon's forked version ofAndroid has gone through. Favorite apps, for example, are finallyavailable in landscape mode, and it appears that you may be able toscroll through them, as well.
Aswe reported last month, the internals in the new Kindle Fire haven'treally gone through much of a renaissance – we've got the nearlyidentical TI OMAP 4470 chipset, featuring two Cortex-A9 cores clockedat 1.5GHz. The amount of RAM has received a much needed upgrade to1GB. Don't expect any surprises as far as screen real estate isconcerned – you're still getting a 7-inch, 1280x800 resolutiondisplay to play with.
Pricingis currently unknown, though the original Kindle Fire initiallyretailed for $199, which subsequently got squeezed down to $159.Considering the pace at which the mobile industry is moving as a whole,however, we're actually expecting an even better price point for thisyear's Kindles, despite not having an official figure just yet.
source: @evleaks