Unlocked iPhone 4 pricing to start at $649?
8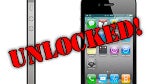 Yesterday, we reported the rumor that the iPhone 4 may be coming to stores near you
this week unlocked
, meaning you could buy the phone without a contract and theoretically use it on any carrier. Today, those rumors are picking up steam and adding a new element: pricing.
The new info puts the pricing at $649 for a 16GB iPhone 4 and $749 for a 32GB model. The word is that the phones have already been shipped to Apple Stores and could see the shelves this week.
Unlocked iPhone 4 sounds good in theory, but it's in practice where things get itchy. There's a possibility that these unlocked iPhones will come in CDMA or GSM versions, allowing customers to use the phone on any American carrier as long as they provide their own SIM card (on T-Mobile or AT&T) or pay any activation fees (for Verizon or Sprint). Of course, knowing Apple there is a much better possibility that the unlocked phones are still only usable on AT&T or Verizon, but not Sprint or T-Mobile.
Either way, an unlocked iPhone would be great for international travelers, because you'd finally be able to swap out SIM cards when traveling and save some money.