Unlocked BlackBerry Q5 now available online from Best Buy
11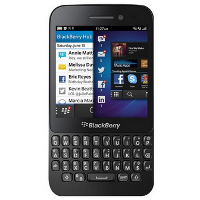 While
BlackBerry's board is busy looking for someone to buy the company
, business goes on. We told you on Wednesday that the
BlackBerry Aristo
Z30 is said
to be undergoing carrier testing
and today we have more news. The lower-priced QWERTY-equipped
BlackBerry Q5
is now available online from Best Buy. This is an unlocked version of the phone and with your SIM card, hooking up with a GSM carrier like AT&T or T-Mobile is no problem. But if you are a customer of Verizon or Sprint, or another CDMA operator, you will have to move on.
The price of the phone is $499.99 and Best Buy will ship it in one to two business days. Just realize that the QWERTY on the BlackBerry Q5 is
more basic
than the one on the
BlackBerry Q10
. Otherwise, the screen remains the same
3.1
inch 720 x 720 box that you will find on the higher priced model.
Considering that the BlackBerry Q10 is $634 in the same unlocked state from Best Buy, you can keep some extra cash in your wallet by choosing the plastic BlackBerry Q5 instead.
source:
BBOS