Unihertz Titan raises over $600K on Kickstarter, will ship in December
5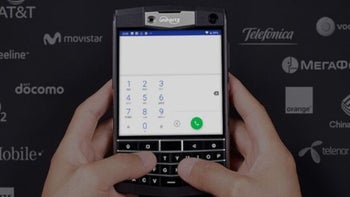 Since it is a rather sluggish Sunday in the land of mobile tech, we decided to take a look at how the Unihertz Titan was faring on Kickstarter. You remember the phone, right? It is similar to the
BlackBerry Passport
, although powered by Android.
Unihertz started the crowdfunding campaign on July 30th
with an "all or nothing" goal of $100,000 which was met on the very first day of the campaign. Now, with 17 days left to go on Kickstarter, the phone has generated pledges of $686,702 more than assuring that the device will get produced.
As Unihertz promotes it, the rugged Titan is for those who get shit done. It is equipped with a very Passport-esque 4.5-inch display sporting a 1430 x 1438 resolution. At one point, we heard that the Snapdragon 835 Mobile Platform would be under the hood, but the listing only mentions an octa-core 2GHz CPU. There is 6GB of memory onboard along with 128GB of storage, and a 16MP camera adorns the back; the Titan features an 8MP front-facing selfie snapper and can function as a Walkie-Talkie.
You can still pledge $259 for the Titan and save $100 off the retail price

One of the most exciting aspects of the Unihertz Titan is one that is so important to many that we led off a whole new paragraph with it; the phone comes with a 6000mAh battery and supports
wireless charging
. Android 9 Pie is pre-installed. With an IP67 rating, the phone can be submerged in a bit more than 3 feet of water for as long as 30 minutes and is impervious to dust. A fingerprint scanner is on board and the Titan supports NFC and global LTE connectivity. And of course, there is the Passport style physical QWERTY keyboard. At 16.65mm thick, this is not a thin phone, and it is even slightly wider than the Passport.
"Our previous mini 4G phone was a big success and users loved its simple, effective features and small size. When our community asked for a better way to type for texts and emails we knew just what to do - bring back a full QWERTY keyboard but with updated features that better serve the needs of current web and social media tasks. Titan does it all in a small, rugged form factor and delivers the best smartphone typing experience available today. It's the perfect phone for modern digital lifestyles."-Stephen Xu, Founder, Unihertz
Unihertz plans on retailing the phone for $359 and was offering an Early Bird Special priced at $199. However, all 100 phones in this tier are spoken for, and all 1,200 units offered at $219 and $239 are also sold out. However, you can still pledge $259 and save $100 on the phone, or pledge $478 for two. The Titan is expected to ship in December.
The BlackBerry Passport launched in September 2014, earning its name from the passport-like form factor it had. The size of the device allowed BlackBerry to make the QWERTY keyboard nice and wide, although users had to use a touch screen keyboard on the bottom of the screen for punctuation and numbers. In addition, certain options would appear on the touchscreen depending on the app that was being used at the moment. For example, when the browser was open, the options included periods and colons. On the other hand, if the Docs To Go app was open, commas and apostrophes appeared. Even though
a version of the Passport running on Android 5.1 was the subject of a photograph
, and BlackBerry was apparently testing such a device, the Passport only ran on BlackBerry 10. The first BlackBerry phone to run Google's open-source operating system was 2015's
Priv
.