UPDATED: TomTom app for the iPhone jumps to version 1.5 & brings support for the iPhone 4
1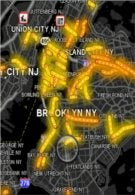 Apple iPhone 4 owners are in for a treat as the latest version of the TomTom app finally brings support to the handset and its high resolution Retina Display. Version 1.5 of the app is available for download and also provides for some additional features such as Navigate-to-photo which essentially will allow you to receive guided directions to the area where geo-tagged photos in your gallery have been taken. As we mentioned, it also offers support for the Retina Display as the interface and maps have been optimized to take advantage of the detailed screen. Plus you'll be presented with improved positioning in places with limited GPS reception.
Now one of the key advantages TomTom has to offer is the fact that it includes 1 million more miles of roads in the US versus some of the other competition. However, it should be noted that the update is only available to the North American version of the TomTom app, but it's expected to happen for other parts of the world too some time down the road.
UPDATE:
Oops, it seems all the cool features the new update will bring will be available in every version of the app, not just the one designed for North America, as the guys from TomTom have pointed out to us. In addition, it turns out the 1.5 update is actually not available as of now, so we'll have to wait a bit more before the goodness becomes publicly-reachable.
Apple iPhone 4 Specifications
|
Review
via
IntoMobile