UPDATED: Heavy week ahead with four of the major players holding events
7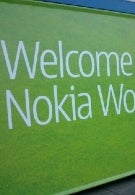 This week is rife with events scheduled by four of the major cell phone manufacturers. We will be working overtime to bring you timely updates on all announcements, so refresh often in the coming week.
On
Tuesday, September 14
Nokia World kicks off in London. With the enormous
management shake-up
in just two working days, we will expect nothing less than pivotal announcements from Nokia how will it turn the ship around.
Nokia E7
is expected to be announced at the event as well, there are even rumors Nokia might showcase MeeGo, so we will keep our hopes up for tomorrow.
UPDATED
: Check out our
coverage of Nokia World 2010
September 14th
is also the date when LG has scheduled its
online press event
to release more details on its Optimus One and Optimus Chic Froyo handsets, which will be broadcast to tech journalists worldwide. We will cover this one live for you, and let the details out as soon as we learn them. The digital press conference starts at 10am GMT.
UPDATED
: We now have a summary of the
LG Digital Press Event
HTC has saved the date
Wednesday, September 15
to hold its own press event in London. Nothing concrete was included in its
smokescreen invite
, but the rumors are that it will be unveiling the
HTC Desire HD and HTC Desire Z
- the European versions of the
EVO 4G
and
T-Mobile G2
, respectively. There are also the standard Froyo tablet rumors circulating the event.
And, last in that hectic schedule we will be following
Samsung's September 16th event
in New York city, where the company is rumored to unveil the
Galaxy Tab
in the
US
, and its
Media Hub
.
Stay tuned! Which one are you most excited about?