UMi Plus is a smartphone ambitious to deliver compelling photography and 2-day battery life
3
This post is sponsored by Umi. PhoneArena's opinions haven't been affected in any way.
Chinese manufacturer UMi is busy preparing an intriguing high-end Android smartphone for release – the UMi Plus. The ambitious model aims to deliver a high quality user experience in all crucial departments, such as design allure, hardware power, up-to-date software, camera quality, and long battery life – all at a price that's competitive even by low-cost Chinese standards.
The UMi Plus comes crafted out of Series 6000 Aviation Magnalium, an aluminum alloy which allows for simultaneous light weight and enough material hardness to withstand everyday wear and tear caused by pockets, keys, and bumps. UMi designers also wanted the handset to stand out with its symmetric curves, achieving harmony in how the elements of the metal body come together.
The UMi Plus can run for 24 hours on the last 15% of battery remaining.
The UMi Plus is powered by the MediaTek Helio P10 chipset and comes with 4GB of RAM and 32GB of expandable storage. Its spec sheet also includes a 5.5-inch, 1080p resolution display (by Sharp), USB Type C port, a fingerprint sensor, and dual-SIM network standby. Audio quality is taken care of by a AW8738 codec, which promises satisfactory sound and power consumption cut by 45% compared to the previous generation.
Battery life has been an important consideration for UMi, so the Plus is equipped with a large 4000mAh cell. UMi claims the Plus is good for two days of use with a single charge. What's more, there's Tri-Control Charge Technology to analyze temperature, real-time usage, and other parameters as to dynamically adjust the voltage, enhance charging speed, and reduce temperature. There's also a Super Ultra Saving Mode for making the most out of the battery's final moments. It's designed to get the UMi Plus keep the last 15% of charge for 24 hours while allowing for a minimum amount of usage.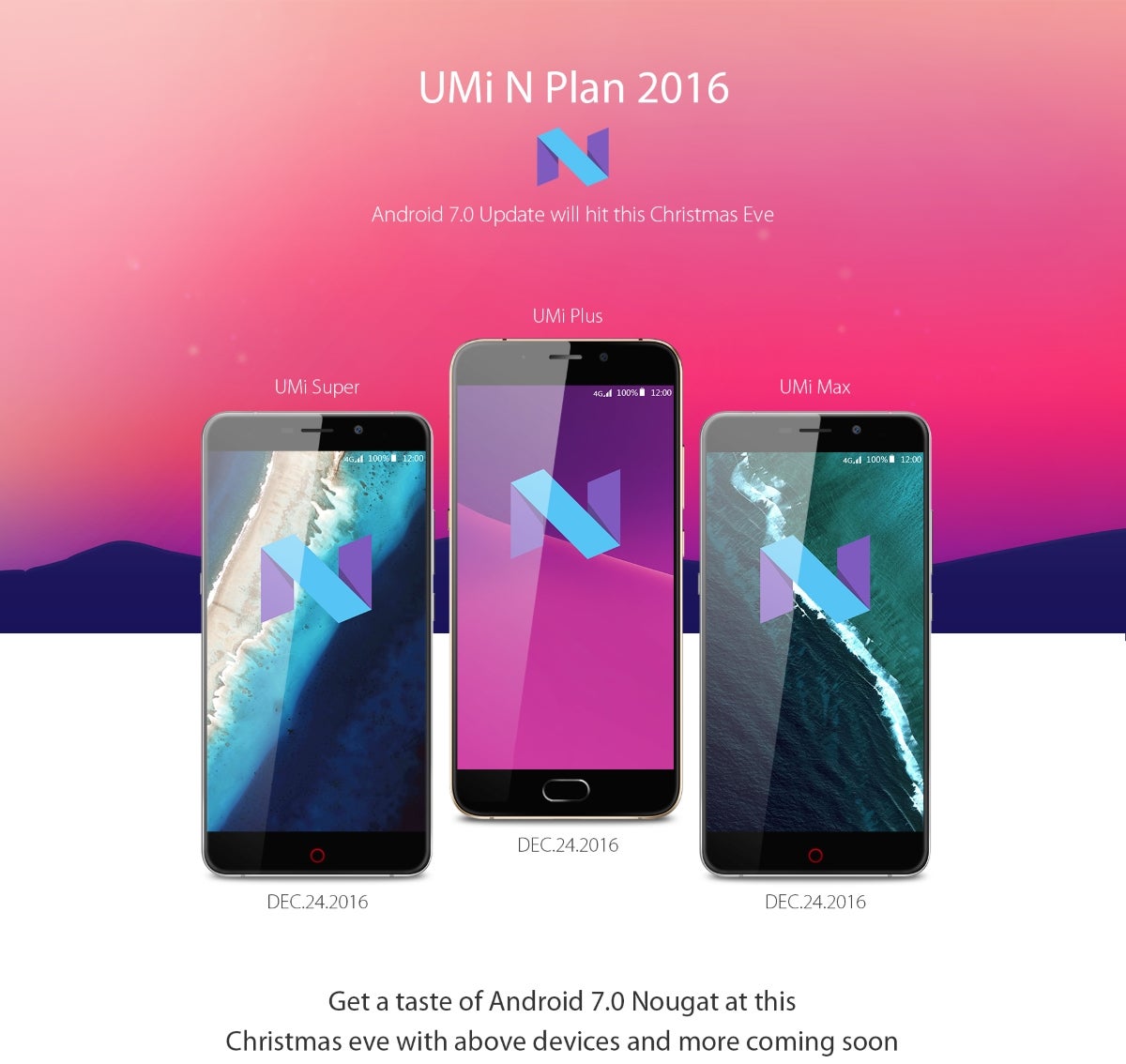 UMi will release an update to Android 7.0 Nougat before the end of the year
To appease photography lovers, UMi has equipped its new model with a 13MP Samsung-made camera that features phase-detection auto-focus and boasts a focus speed of 0.15s. The camera's aperture size is a standard f/2.0, and the assembly includes a 5-element lens, two image signal processors for post-processing photos, and a dual-tone LED flash for shooting in dark environments. Additionally, UMi's camera app includes a "Pro-Photo" mode that lets users manually adjust several key properties, such as ISO, Exposure speed, Exposure value, Saturation, Brightness, Contrast, Focal point, and White balance. Meanwhile, the front camera is a 5MP unit.
Software-wise, the UMi Plus ships with Android 6.0 Marshmallow, although a version of Android 7.0 Nougat is currently being tested for the smartphone and is scheduled for release before the end of the year.
The UMi Plus is currently on pre-sale, with online retailers such as AliExpress offering various discounts on its regular $250 price. Mind you, there's hardly any guarantee that the smartphone is compatible with worldwide LTE networks, so unless UMi comes up with a global version, you'll have to make do with 2G/3G data speeds.