Twitter for Android also takes part in Update Wednesday, app is more polished and is faster
1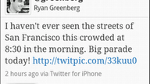 Earlier today, we
reported
to you about Facebook's upgrade for the Apple App Store and the Android Market. By coincidence, Twitter followed suit today with an upgrade for Android devices. The official Twitter app for Android now incorporates some new features that are currently available for other platforms. For example, a Tweet details page has been added to the Android app which is accessible by clicking on a link; the feature, available on Twitter apps for the Apple iPhone and iPad and for the Twitter app for Windows Phone, makes it easier to reply, click on links, pick a favorite tweet or retweet.
Speaking of retweets, the new app allows you to add a comment to a retweet before you send it off. Another change that has been part of the Apple iPhone Twitter app allows you to pull down from the top of your timeline to reveal any new tweets. When you are reading a tweet, you can now swipe across it to receive your options such as replying to the message, sharing it, or viewing the user's profile. You'll be happy to learn that the new Twitter app for Android has also received a bump up in speed. Thanks to a new way of drawing a timeline of tweets, the whole application is now faster and scrolling is smoother.
The Twitter for Android app can be found in the Android Market as a free download for those devices running Android 2.1 or higher. Or, check out the QR code at the source link.
source:
Twitter
Recommended Stories