Turn your videos and gifs into animated wonders with the "to.be Camera" from the App Store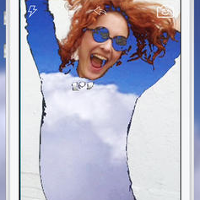 The
to.be Camera
app on the App Store, allows users to add special background images and effects to your videos and gifs. With the app, you can use your iDevice to take a picture of yourself lying on your bed, and make it look as though you were stretched out at the beach. Besides the special effects that come with the a purchase of the app, there are 99 cent in-app purchases you can buy, that add more background possibilities.
Your finished creation can be shared via social media sites like Instagram, Facebook and Twitter, or by sending out an email. If you don't want to spend 99 cents for the additional backgrounds, you can use your own from the Camera Roll on your iOS flavored device.
The
to.be. Camera
app is free. Here is a chance to work out some of that creativity that has been gnawing at your brain over the last few years. Keep in mind that you need to have iOS 7 or higher on your iPhone or iPad, to install the app.
source:
to.be.Camera
via
RedmondPie