Triple threat: Nokia tops Finland's top carriers' sales charts
18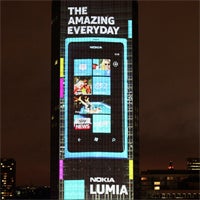 While everyone was enjoying an extra day in their February yesterday, Nokia was busy topping charts. February sales data has been released and the Finland manufacturer has managed to snag the top spot for sales at all 3 major carriers in its home country.
While the Nokia Lumia 710 occupied various positions from 3 to 12 across the carriers, it was the Nokia Lumia 800 that shined. The Nokia Lumia 800 was the number one seller in the month of February for Sonera, DNA, and Elisa.
In second place across the board was the newly dethroned Apple iPhone 4S, making it safe to assume that the Lumia 800 probably ousted the iPhone 4S as far as over all February sales in Finland. Nokia really is shooting for the amazing everyday - at the very least, every day in February.
Here is a look at the final lists:
Sonera Top 10 (January position in parentheses)
( – ) Nokia Lumia 800
(1.) Apple iPhone 4S
( – ) Nokia Lumia 710
(2.) Nokia C5-00
(5.) Nokia 500
(5.) Nokia C2-01
(7.) Samsung Galaxy Xcover
(3.) Nokia E7
( – ) Nokia 300

(6.) Samsung Galaxy Gio
DNA Top 10
Nokia LUMIA 800
Apple iPhone 4S
Nokia C2-01 *
Samsung Galaxy Mini
Nokia C1-01 *
Samsung Galaxy Xcover
Samsung Galaxy S II
Samsung Galaxy S Plus
Nokia LUMIA 710
Nokia C2-05
Elisa Top 15
Nokia Lumia 800
Apple iPhone 4S
Nokia C2-01
Samsung Galaxy Gio
Samsung Galaxy Xcover
Samsung Galaxy S II
Nokia 300
Nokia 500
Nokia C5-00 5MP
Nokia 7230
Samsung Galaxy S+
Nokia Lumia 710
Nokia E7-00
Apple iPhone 4
Nokia N9-00
source: WMPowerUser