TouchWiz Themes will be coming with the Galaxy A3 and A5 phones, screenshots and details inside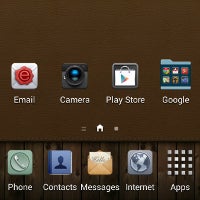 We've heard enough
rumors
and seen
enough
images
of the upcoming Themes app for Samsung's TouchWiz to know for sure that it's real. While this feature is pretty popular with China-based manufacturers and their Asian market-exclusive devices, there are very few worldwide-available phones that allow users to pick out the appearance of their smartphone's screen beyond the typical wallpaper switch.
A Theme is not just a wallpaper and a lock screen – while a theme will, indeed, come with its default background images, it will also change out the appearance of the phone's system icons – dialer, contacts, SMS app, and so on. From there on, if the user chooses so, they can switch out the default wallpapers for another picture, which matches the new icons in a different way, and adds to the customization experience, which Android users are usually proud and happy with.
We now learn that Samsung will be releasing the Themes app with the upcoming
Galaxy A3
and
A5
devices, and we'd wager it may come to older handsets later, via an update. A first look at the Galaxy A3 revealed that the app comes preinstalled on the device and holds 5 themes – Basic (the one we're used to see on a TouchWiz device). Natural, Craft, Classic, and Sweet. There will probably me more choices in the future; also, we dare speculate that Samsung may open the feature up for 3rd party developers and artists. Aside from the wallpapers and icons, TouchWiz themes will also modify the system colors for an added layer of customization.
So what are your thoughts on a customizable TouchWiz? Yay or nay?
Samsung TouchWiz Themes
source:
GSMArena
via
SamMobile