Tim Cook sells $35.8 million in Apple Stock after 1.26 million RSUs vest
46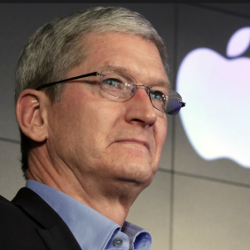 Apple CEO Tim Cook enjoyed a huge pay day this week, when Apple's CEO sold a third of his Apple shares for $35.8 million. The executive entered the sell order after 980,000 Restrictive Stock Units based on his longevity as CEO, and another 280,000 RSUs based on Apple's stock performance, had vested on August 24th. The total amount came to 1.26 million RSUs.
Cook's contract required that for the total performance based 280,000 RSUs to vest, Apple had to finish in the top third of the S&P 500 in stock performance for the period from Aug. 25, 2013 to Aug. 24, 2016. Had Apple finished in the middle third, Cook's award would have dropped to 140,000 RSUs. And had the stock finished in the bottom third, the performance award would have disappeared completely. With a total shareholder return of 67.55% over the three years, Apple's shares finished in the top 78th percentile of the S&P 500, allowing Cook to be credited with the 280,000 performance RSUs.
This past Wednesday, when the award vested, was the fifth anniversary of Cook's second and last promotion to Apple CEO. Back in 2009,
Cook was temporarily given the CEO title
as Steve Jobs took a leave of absence related to his cancer treatment.
The SEC has certain rules for CEOs selling off restricted shares, which Cook had to follow. We do know that the 990,117 shares were sold at prices ranging from $106.69 to $107.92. The executive still owns 1,309,692 Apple shares in his trust, which has a value of $140 million based on Friday's closing stock price of $106.94. Five more performance based RSU awards are due annually over the next five years ended 2021. Also that year, Cook will be owed a huge award of 700,000 RSUs.
source:
AppleInsider