Three new music phones announced by Samsung
0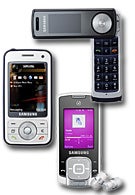 Samsung presented three new music phones: SGH-i450, SGH-F330 and SGH-F210. Their presence of highlighted music features indicates the music fans, the phones mainly target in. The new phones possess identical features such as 2 MP camera, Bluetooth, USB and Micro SD card slot. Their music players support a wide variety of music file formats, such as MP3, AAC, AAC+, e-AAC+, WMA, WMDRM. What is more, Samsung has used ICEpower amplifiers in the creation of i450, developed by Bang & Olufsen, which as they say, improve the sound performance and decrease the electricity consumption.
The quad-band slider
SGH-i450
uses Symbian 9.2 OS with S60 interface and supports 3G video calls. It also features 3G capabilities with HSDPA data transfer, ICEpower amplifier, 35 MB internal memory, flash, 262K color display, supporting 240x320 pixels resolution. But definitely the most remarkable feature in it remains the touch wheel navigation. The phone's starting price will be $510 (360 euro) and will be available in Italy in the end of October, and shortly after that in the other European countries.
SGH-F330
is also a quad-band slider that shines with its camera autofocus and 3G capabilities. The internal memory is limited to 24 MB and the display has the same characteristics as those of I450. The phone has been already launched in Germany in the beginning of October and is expected soon after that the other European countries at a starting price of $369 (260 euro).
SGH-F210
's swivel way of opening comes as the phone's most remarkable feature at a first sight. It has a 262K color low resolution (128x220 pixels) display, 3G data transfer, 1 GB internal memory and FM radio. F210 has been launched at the price of $397 (280euro) in Germany in the middle of October and shortly after that it will be available in the other countries.
source: Samsung