Three different 10.1" Android tablets from Hannspree are exposed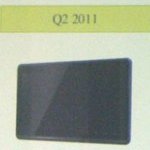 Not the kind of manufacturer that would come to mind when talking about Android tablets, but some people are already familiar with
Hannspree
because of their recognition in the computing space. Well, they're going to be a name you'll undoubtedly remember because they're making a push in the lucrative Android tablet space with three beauties that are lined up to be released in each of the quarters this year.
Even though it's hard to say what kind of calendar schedule they're following in regards to quarters, but their first Android tablet is expected to land in Q1. Furthermore, the other two 10.1" tablets are going to be released in Q2 and Q3 respectively. And from the looks of it right now, they're seemingly being referred to as the
SN10T1, SN10T2, and SN10T3
.
As a whole, they all share the same
10.1" screen size
, but the Q1 available
SN10T1
will have a resolution of 1024 x 600, running Android 2.2 Froyo, running a Tegra II chipset, boasting 16GB of internal storage, and will be priced at
€349 ($505)
. Secondly, the Q2 available
SN10T2
will sport the same screen resolution of 1024 x 600, running a T1 chipset, 8GB of storage, Android 2.2 Froyo, camera, and will sell for
€299 ($433)
. Lastly, the Q3 bound
SN10T3
features the highest screen resolution of the three at 1280 x 700, Tegra II processor, 16GB of memory, camera, Android 3.0 Honeycomb, and will sport a
€449 ($650)
price tag.
From the leaked screen shot, we're mildly presented with associating images of the three tablets – but they don't justice in giving us a good idea of what to expect. However, we get a better look at the SN10T3 model in one of the images, but it seems to be an older pre-production model. Moreover, the video demonstration shows off an updated version of the pre-production unit which happens to be slimmer. Are you excited about any of these?
via
SlashGear