This smartwatch uses a Samsung Exynos processor, but it's not what you'd expect
0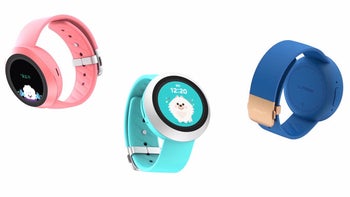 You rarely see Exynos processors used in anything else but Samsung's own products. A new smartwatch, however, coming from Korean company Naver Labs, will make use of Samsung's Exynos 7270 Dual processor... and it's a kids' watch.
The Naver Labs AKI watch a 1.2inch AMOLED touchscreen, IP68 rating, and is exclusively aimed at children, or rather, parents. The watch allows concerned parents to track their childrens' location, supports VoLTE calls, and features Naver Labs' own virtual assistant named – CLOVA. The AKI watch is also big on language learning and education, featuring Papago, a multilingual machine translation cloud service that helps kids study second languages. With this arsenal, the AKI is capable of translating speech in English, Korean,
Interestingly, the Exynos 7270 Dual that powers the AKI watch is the same processor that's at the heart of the
Samsung Gear
S3 Sport and Frontier. It is a 14-nanometer chip with two Cortex
A53
cores clocked at 1 GHz each and an integrated LTE modem in a tiny package
.
Pretty neat for an otherwise kid-centric device.