The latest Xperia phones, the Samsung Galaxy teasers, and the Snapdragon 820 leaks: weekly news round-up
9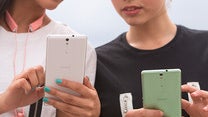 Once again, it is time for our weekly news round-up, where we put the most interesting stories from the past seven days for anyone who needs to catch up. Sony's latest smartphones are on top of our list this time. The company announced the Xperia C5 Ultra and Xperia M5, both of which are situated in the upper mid-range category of Android devices. What about the high-ends, you ask? Well, those might be coming soon. Images of a Sony Xperia Z5 and Xperia Z5 Compact have leaked several times, exposing the handsets from multiple angles. But we can't confirm whether the images are real or faked, so take these leaks with a grain of salt.

In other news, Samsung has been teasing its upcoming devices, presumably the Galaxy Note 5 and Galaxy S6 edge+. Interestingly, there could be a third device coming to the show as well, and it might be a jumbo-sized tablet. According to shipping there's an 18.4-inch monstrosity of a tablet in the works.
And to make things more interesting, we've thrown the latest Snapdragon 820 on the list of read-worthy stories. If tech specs are what gets you excited, you might want to take a look at the performance we could be expecting out of Qualcomm's new chip.
Flip through the slideshow below for more!